If you are reading this blog, you must have bought a new action camera and are wondering how to mount an action camera on your body. There are many types of Action Camera Body Mounts. Considering the type of adventure you want to embark on, you can choose one of the 7 budget camera mounts mentioned in this blog.
Even though there are many action camera attachments, a camera body mount is important for all your outdoor adventures. So, let us explore the different mounting options and the cheapest camera mount for each!
7 Types of Action Camera Body Mounts 
Like there is 3 point slinger for cameras that helps to attach the camera to your body, a body mount for an action camera solves the same purpose for action cameras. It is a method of mounting your action camera on various places around your body. Depending on the activity you are planning to do you can choose which part of your body you want to mount the camera. 
There are many types of body mounts for an action camera that you can choose. However, for our purposes, we will only consider the affordable body mount options. Yet, they will be of a standard quality that will solve your purpose. Here is the list of the 7 types of body mounts you can consider: 
Helmet Mount
An action camera helmet mount is how you mount your action camera on your helmet. It is particularly useful for mounting your action camera as it stays out of the way and lets you focus on the action. It is suitable for any extreme sport like mountain biking or sky diving. 
The helmet mount we are considering for our list is the Sametop Helmet Adhesive Sticky Mounts. This mounting method has a curved adhesive part that sticks to any part of your helmet as you like. Since it's curved, it takes the shape of the helmet easily.
Head Mount
A head mount is an idle action camera body mount if you do not want to feel restricted by a helmet. It is a suitable method when you do not need the protection of a helmet for your sport. For example, site seeing or rock climbing. Like the helmet mount, this body mount stays out of your action, and you can focus on your activity.
The cheap head mount for our list would be the Amazon Basics Head Strap Camera Mount. This camera head mount has a waterproof head strap with non-slip rubber inserts that prevent it from slipping. Since with this head strap, the action camera is close to the eyes; you can get a unique POV angle.
Chest Mount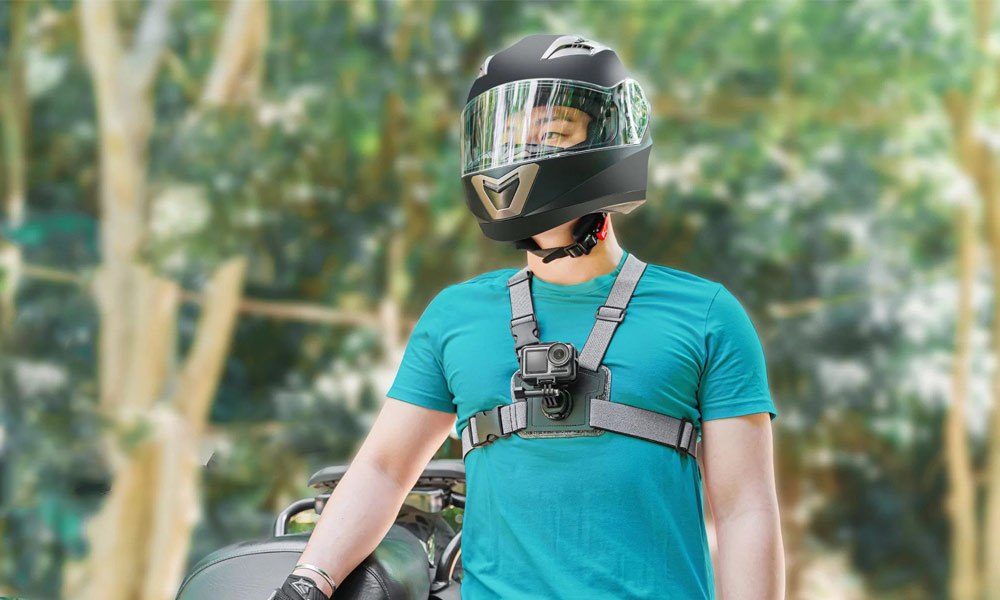 With a chest mount, you can strap your action camera to your chest. It is done with the help of an elastic harness around your shoulder. This method of mounting the action camera is preferable by many because it provides great stability and reduces camera shakes.
This camera mount is suitable for sports like mountain biking, where you can capture the trail you are taking. However, it is unsuitable for sports involving your arms moving, as the arm will come in the action camera's field of vision.
The chest mount we are considering for our list is the TEKCAM Chest Harness Mount. It has an affordable camera mount with a fully adjustable design for any sport.
Shoulder Mount
Like the chest mount, a shoulder mount is strapped to the body with a harness across your shoulder. The camera is placed on the shoulder with a POV slightly lower than eye level. It usually gives more immersive footage compared to a chest mount. Furthermore, your arms won't block the camera's view since it's placed on the shoulder. 
The action camera shoulder mount we included in our list is the PellKing Single Shoulder Strap Mount. As the name suggests, it has a single strap design, making it less restricting than other market options. Furthermore, it has a comfortable elastic strap with a quick-release option. 
Wrist Mount
The wrist camera mount is one of the more versatile options, as you can take the direction of your footage on the fly. You can easily rotate the angle or turn the camera around to take selfie footage. Moreover, you have greater control over action camera footage than most other body mounts.
We will consider the USA GEAR Wrist Strap Band Style Action Camera Mount for our list of affordable action camera body mounts. Whether for surfing or climbing, you can use just point-and-shoot and capture unique footage. Even though it is a very reasonably priced product, it is guaranteed to last several years.
Backpack Mount
Backpack Mount gives a similar perspective to that of a shoulder mount. However, unlike a shoulder mount with a harness going across your torso and shoulder, this camera mount goes onto your backpack. Thus, making it comparatively less restrictive. You can even move it up and down the backpack strap to fix the height at which you want to capture your footage.
We will select the TELESIN 360 Rotation Bag Backpack Shoulder Strap Mount for our purposes. With this mount, you can rotate the camera 360 degrees and tilt it up and down to fix it at the best angle for your purposes. Furthermore, it is made of a shock-absorbing material that helps to keep the camera stable.
Mask Mount
This mask is specifically suitable if you want to go snorkeling and help to capture some amazing first-person POV footage of all the beauty the underwater world has to offer. This camera mount is especially helpful since it prevents the need to take heavy camera gear with you for capturing your footage.
Moreover, there are additional accessories like action camera flashlights that you can consider for seeing underwater. So you can enjoy the mesmerizing underwater view without carrying any extra gear.
TELESIN Swimming Goggles Diving Mask Scuba Snorkel Glasses is the one for us. Even though it is affordable compared to the other options in the market, it does a commendable job of capturing underwater footage. It is made of earthquake-resistant glass with an anti-fog treatment that helps to keep your vision clear.
Final words for Action Camera Body Mount 
So, after a fascinating journey through the various action camera body mounts, we have successfully found the top 7 budget options. These body mounts are perfect for any sport you want to capture. Therefore, go ahead and capture amazing hand-free first-person POV footage and share it with the world!
Frequently Asked Questions [Action Camera Body Mount]
Is there any other camera body mount not mentioned in this list? 
Ans. Yes, there are some other body mounts that you can consider, like bite mount, which is useful for surfing. There are also others like magnetic mount or finger grip mount. You can even consider clip mount for your various adventures.
Can I mount my action camera on any other place other than on my body?
Ans. Yes, you can. There are several other mounting methods where you do not need to mount the camera on your body. Such as pole mount, where the action camera cant be mounted on a bicycle handlebar. 
Other than body mount for action cameras, are there other accessories that can be useful for extreme sports? 
Ans. Ans. Yea, you can consider using action camera protectors or cases. These accessories help to protect your investment from getting damaged.
Clipping Path Office is an outsourcing company dealing in all the Image Editing Services like: Clipping Path, Photo Retouching, E-commerce Image Optimization.