Furniture is considered as an important item in home decor. People really prefer that their home must be embellished with luxurious furniture. Buying it online is the better option for them. Now the question is how to photograph your furniture that looks attractive and dazzling. So my focus is to make you aware about the steps that you must follow for getting best furniture looks so that you can attract your customers. The steps are: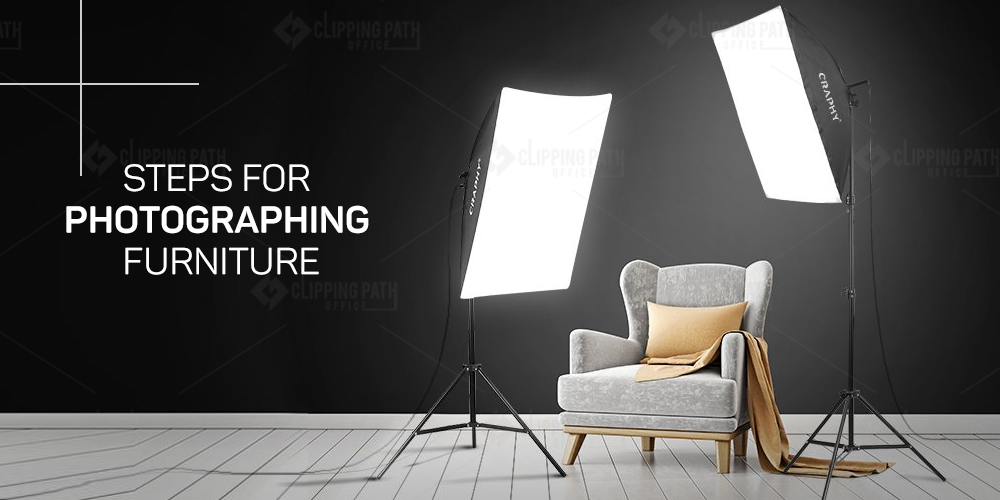 Furniture preparation: The first step that comes is preparing your furniture by removing all its tags and polishing it to make it shine. You have to use the furniture polish for that. Another preparation is removal of all the imperfections, scratches if you are dealing in second hand items. Don't hide any imperfections if they are irremovable or you are not able to fix that.
Studio setting: set your studio having large space and enough light for shooting. With that you require a backdrop which is white in color. That is brief description of studio setting.
Selection of lens: selection of lens is an important part of these steps. Choose a lens ranging from 24mm-70mm if you are choosing zoom lens or 50-75mm if you are choosing versatile lens. Have a professional grade camera with aperture above f8 or f16 according to your requirements.
Tripod positioning: next step is to set your tripod and camera so that you can shoot without camera shake. Setting tripod and camera will eliminate your distractions and also ensure consistent shots. You have to set it straight and have to keep the camera angle little bit down to focusing the product.
Avoid over-styling: Following these step you have to consider that you don't over style your furniture that only results in concealing important parts and distracting the customers towards the secondary items.
Shoot multiple angles:  This is next and one of the most important steps. This step requires that you shoot your furniture from different angles like from back, front and also shoot 45 degree angles. This will give clearer and better view to your customers. You can also highlight specific details of your product like fabrics, wood grains, etchings etc. by showing it in the pictures. Customer also feels confident while buying your detailed furniture images.
Post-production: The last and the most valuable step is post production of the photographed images. With the help of the photoshop you can edit them and give that desired look to images and can enhance the image quality.  Take care of all the fingerprints, dust, marks to be removed in editing. Edit the contrasts and appearance but up to the extent the customer can easily visualize your product.
Wind-up: shooting furniture products is difficult job as it needs separate and large area and different variety of lenses and camera settings also. But not to worry this article will guide and acknowledge all aspects of furniture photography. You only have to follow the mentioned and that's it you can easily accomplish your job of photographing furniture.
Hi, This is Geetika Bhasin. I am a professional content writer with years of experience in researching, improvising and supplying content to my far-fetched clientele. I am fond of writing articles and stories and when I am not doing so, I will be reading or driving.